---
An effective employee of the month program is a great way to improve your company's culture and workplace environment. Why make it harder than it has to be?

We'll help you answer some common questions, including:
What do I need to start a successful employee of the month program?
How do I choose the best employee of the month?
What's the best way to present the employee of the month awards?
Doing it right can be achieved with 3 simple steps.
Step 1 – Set Goals & Determine Criteria
To have a successful employee of the month program, you have to start with a solid foundation.
Our clients who see the best results from their employee of the month program all have great criteria chosen by their management team designed to increase performance. Rewarding your employees for doing the right things is the only way to see a true difference in their performance.
These areas must be directly related to what is needed for your business to grow.
Are the criteria measurable and specific?
The more measurable and specific your criteria is for selecting winners of the award, the greater the positive effect the employee of the month program will have, especially if this is clearly expressed to the employees. They can't hit a target they can't see.
Make it easy for them by showing your team members what you want to see improved in your business. Tie it to things that actually increase your sales and profits. The good news… you're probably already tracking a good portion of it through your company's KPI.
Great questions to ask about the criteria:
1. What is the main goal of our company?
2. If achieved, what areas of performance would make us stand out in our market/district?
3. What areas of performance would we like to improve in our location?
If you still have trouble coming up with something, here are some other examples of great criteria to get you started on your employee of the month program:
Sample sample criteria:
1. Attitude (Willing to help? Goes above and beyond?)
2. Performance goals (Completes tasks on time? Exceeds measurable goals?)
3. Team Player (Works well with others to complete goals?)
4. Punctuality
5. Professionalism (Represent the company's image? Great customer service?)
Get more specific criteria by checking out this article about the 24 Insider Secrets That Improve Employee Recognition Success.
Step 2 – Monitor Criteria & Track Performance
Now that you have a foundation for your employee of the month plaque program, it's time to bring the Team Members on board!
Get everyone together and talk through what the criteria means. Answer any questions and clarify exactly how they will be able to WIN the award. Remember… this award will not just be given. It has to be earned!
Once it's presented, post a list of the criteria needed to earn the award. Put it up where it will be visible to everyone on a daily basis. Perhaps the break room, or where the employees clock in and out.
Update the scores at least 1 time each week so that everyone can see where they rank and where they can improve. Use this as coaching opportunities for your team to share knowledge and improve together.
Step 3 – Now It's Time to Celebrate!
Don't stop now, finish strong. After taking so much time to build confidence in your team, make sure that getting your winners recognized in a timely fashion is a priority. The success of the whole program can be won or lost with this step, and you want to make sure that you are successful.
Staying current with turning in winning employees is a huge factor in keeping the goals and winning criteria fresh on employees' minds each month. You want your top performers each month to be motivated to do it all over again at the beginning of the next month along with the rest of the team.
The quicker you can give the winning employee that "pat on the back," the more effective the awards program will be.
This part is so important that, in the MyEmployees system, you get an Engagement Coach to help you with it. If you get busy (like we all do) and forget to turn in your winners, your Engagement Coach reaches out to you by email or phone with a quick reminder. That way, your program stays up to date and consistent.
Make the presentation a HUGE deal
Take a picture of the management team presenting the award (with the winning employees in the middle), and actually give them a copy so they can remember their special and memorable day forever.
Make sure that you make the winning employee feel important. Without these team members your business would not be where it is today. Let them know that it means a lot to you that they are there.
It is important to:
Utilize social media, company newsletters, email updates and any other communication tool to announce the winner.
Make sure that it is a large gathering. Include employees, clients and customers. Everyone gets to celebrate your success.
Talk about the reasons that person won.
Applaud and takes pictures with the managers with the winner.
Remember, when you make it a big deal they will feel like it's a big deal.
Your attitude is the key.
Wrapping Up
You now have the necessary tools to start a successful employee of the month program. Use it to drive performance and improve the things that make your business thrive. Remember to keep your criteria current, monitor and track performance, and make a huge deal about why your winners are being recognized.
Let's talk about it!
If you'd like to talk to someone about how you can create an effective employee of the month program, including a "done-for-you" solution used by over 6,500 business all over the country, schedule a quick chat with one of our Account Executives HERE.
If you liked that, you may also like…
Find answers for your questions on how to start an employee of the month program in the "3 R's of Employee Recognition Done Right." Read more HERE.
A great employee of the month presentation is the key to maximizing your employee recognition and employee appreciation efforts! Read more HERE.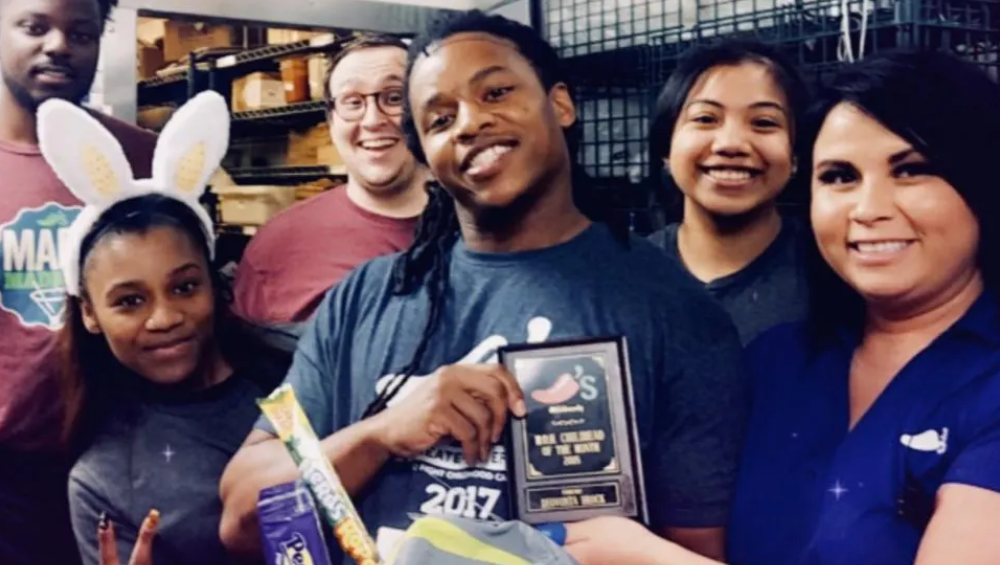 Attention and appreciation motivate people, and strategic employee recognition is what our clients use to get more out of individuals and teams alike. Find out more HERE.
Check out more posts from the
MyEmployees Learning Center
---
Peep these recognition tips and tricks and get rolling with employee recognition. Read more here.
Become a top 10% manager in your industry and get the promotion you've always dreamed of with some of the tips and training you'll find HERE.
Get inspired by some of our most successful customers HERE.
Yes, we're unique. Learn all about the fun and adventures that make us who we are HERE.